Geotextile nonwoven needle-punched
Geotextile nonwoven needle-punched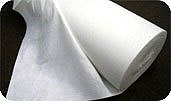 The company "Geomaterials" offers non-woven geotextiles, manufactured using needle-punched technology. All the products we sell are certified and are of high quality and affordable price. Non-woven geotextile has impeccable technical characteristics, which makes it an optimal choice for use in the implementation of industrial and civil construction projects.
Raw materials for the production of nonwoven needle-punched geotextiles are polymer fibers that are fixed mechanically. The finished geo-product is particularly durable and durable. The material has excellent filtration ability and resistance to rupture. Geotextile needle-punched non-woven is indispensable in cases where a strong and water-permeable product is required, effectively solving the problems of dividing bulk layers of various objects and ensuring the uninterrupted operation of drainage systems.
Non-woven geotextile dornite, made using needle-punched fixation technique, is actively used in road construction. The material does not allow mixing to the bulk layers, thereby preventing the destruction of the road structure. In addition, a non-woven geolocation minimizes the thickness of the base, and in some cases allows the exclusion of such a technological stage as its device. This geo-product significantly increases the degree of resistance of the roadway to various mechanical influences (especially local loads).
The needle-punched non-woven geo-plank allows to significantly limit the process of rutting on the roads. The material is an effective tool that ensures the stability of unpaved bulk structures of natural and artificial origin. Geotextiles are indispensable as a component of railway embankments, performing the most important function of dividing the base and the layer of bulk material. The product not only keeps crushed stone, not allowing it to "drown" in the ground base under the influence of loads exerted on the mound, but also does not interfere with the circulation of moisture, providing a normal drainage. Accordingly, the structure does not lose its original form and functionality.
Non-woven needle-punched geotextile is an important component of drainage systems and a filter element of road and rail embankments. When the draining layers come into contact with the ground, the material plays the role of a filter, preventing the leaching of fine fractions and giving the coarse-grained soil an even greater drainage potential. This geomaterial can be used in the implementation of bank protection projects, as well as as an important element of the foundations of buildings for various purposes. Non-woven geo-cladding bonded with the use of a mechanical fixation method is an excellent material for protecting the insulating laying of main pipelines in the gas and oil industries.
All the geo-panels supplied by us are environmentally friendly and have a long service life. The product is capable of withstanding significant dynamic loads and easily adapts to aggressive soil conditions. Geotextile needle-punched non-woven allows you to significantly reduce the costs associated with the construction and subsequent operation of objects.
>> Go to Geotextile production section