Geotextile 500
What does geotextile 500 mean and where is it used?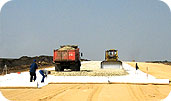 Geotextiles with a density of 500 grams can be called road, it is widely used in the construction of roads and railways.
Geotextile 500, in most cases, means its density, i.e. The weight of the geotextile is 500 grams per square meter. If the fabric is woven (geotextile), this parameter will mean tensile properties of 500 kN / m2. The most common abbreviations are the following types: geotextile IP 500, geotextile PP 500, geotextile PE 500, geotextile IGP 500.
Nonwoven geotextile 500 has the following characteristics:
Surface density - 500 g / m2.
Breaking load not less than - 500 N / m;
Elongation at rupture - 65-130%.
Of course, the characteristics of the geotextile may vary depending on the raw materials used, polypropylene or polyester, and also on the production technology, in this example, the lowest values ​​are shown for secondary raw materials.
Cloth geotextile with a density of 500 grams per meter is used:
In pedestrian areas;
Parking for trucks;
To strengthen slopes with a geogrid;
Highway and motorway;
Railways;
As a structural interlayer with gabion structures;
Access roads for heavy transport;
Runways;
Drains drainage;
Drainage systems;
Protection against weeds, etc.
Protection of foundations;
Landfills for disposal of solid waste;
Drainage for bulk dams;
Protection of geomembranes.
>> Geotextile 600
Geotextile densities:
Additional Information:
Description material geotextile, as well as its types and types, such as: road geotextiles, geotextiles for drainage, woven and non-woven geotextiles.
In our campaign, you canbuy geotextileat favorable prices, andbuy geotextile Dornit, as well as other geosynthetic materials. Delivery in Russia and CIS countries.
In the construction of roads is often usedgeotextile Dornit. The description and characteristics of the material are given on our website.