Geotextile for drainage
Geotextile for drainage
The company "Geomaterials" implements a wide range of geotextiles oriented to use in drainage systems. We offer products from domestic and foreign manufacturers. The material is characterized by impeccable quality, excellent operational potential and reasonable price.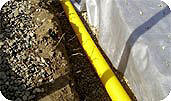 Geotextile drainage is a fabric made of polymer fibers, which has good strength characteristics and is in demand in drainage systems. The scope of the geopolitics, as a rule, depends on its density. The product used in drainage systems usually has a low density and fulfills the function of filtration, keeping the smallest particles of soil from washing out. At the same time, the geotextile for drainage is not an obstacle to the moisture circulating in the drainage system. The material supports the functionality of drainage communications, not allowing the smallest fractions of soil to clog the drainage layer. The system in which geotextiles are involved is in a stable working condition, without requiring too much maintenance.
Geopotno for drainage has a sufficient degree of strength and elasticity. The product is inert and safe for the environment, is immune to solar ultraviolet radiation and has excellent filtering properties. Being used as a barrier between the ground and gravelly drainage backfill, the geotextile does not allow the system to become contaminated, thereby contributing to its continuous operation. A thorough analysis of the data obtained from practical studies has shown the effectiveness of this geo-product as a component of drainage. The material not only reduces the cost of the water drainage structure, but also significantly reduces the cost of its operation. The processes of transportation and storage of geo-panels are extremely comfortable, and laying does not require the involvement of specialists with high qualifications. Accordingly, there is no need for special equipment. The result is a reduction in labor costs, time and financial resources. Geotextile density for drainage lies in the range of 150-350 g / m2.
Geotextile drainage does not have a negative impact on the environment, while providing an opportunity to conserve natural resources. Stone backfilling of the drainage is not silted and is not washed out, and accordingly the need to update it is minimized. Summarizing the useful functions that the geopolitic performs in the drainage system, it turns out that this material:
Allows to avoid blockages of perforation of drainage pipes and cracks;
Provides operational drainage;
Separates the layers, not allowing them to mix, thereby guaranteeing the integrity of the structure;
Provides a uniform distribution of local impacts;
Assumes the burden exerted on the supporting structures;
Allows to minimize excavation;
Reduces costs and ensures the economical use of natural resources.
Drainage geotextile, offered by us, meets all existing standards and norms of the Russian Federation. The products are certified and fully ready for operation within the framework of drainage projects.
>> Go to the section Geotextile non-woven needle-punched