Geotextile for roads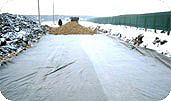 Geotextile for roads
An integral component of the roads is the geotextile. This material has technical characteristics and properties that make it possible to efficiently solve a variety of problems. The company "Geomaterials" offers geotextile road in stock. The cost of the product is low, which makes it an affordable acquisition for any category of potential consumers. To buy a road geolocation is to give preference to innovative construction technologies.
Road geotextiles are made of polymer fibers having a variety of lengths and fastened using heat-fixing technology. The resulting homogeneous structure guarantees the durability of the material and its immunity to mechanical stresses. The product is water permeable, elastic and highly durable. The road geolocation is inert in an acid-alkaline medium and neutral with respect to the ecosystem. This geomaterial is not decomposed. The main functions performed by geotextiles and the most in demand in road construction are separation, reinforcement and filtration.
The main area of ​​use of this geotextile is the road sphere. The material is used in the construction of highways and railways, tramways and runways of aerodromes. The road geolocation is used for the construction of pedestrian paths and sidewalks. This geomaterial allows to increase the bearing capacity of the road structure, while reducing the risk of deformation and subsequent destruction of the base. Geotextile road heat-treated does not allow mixing ground and bulk material, thereby increasing the density of the base, keeping the structure of the roadway and parallelly evenly distributing local loads, preventing sediment. Carrying out the function of the reinforcing component of the road (regardless of the scale of the object), the geo-panel reinforces the structure, preventing surface cracking and rutting. The operational potential of the facility, in the construction of which geotextiles were used, increases manifold.
The material is not prone to absorption of groundwater, is not subject to decomposition and is chemically neutral. The most important advantage of using the material in the construction of road facilities is a significant reduction in financial, labor and time costs. Along with the strengthening of the structure, the geotextile for roads ensures the rational use of bulk building materials. In other words, the thickness of the bulk layers is minimized. Accordingly, the material consumption of the road structure decreases, as are the volumes of work. At the same time, costs that are customary in the current maintenance of the facility and include labor costs for geotextiles of road workers and the operation of special equipment are reduced. In addition to all of the above, road geotextile is comfortable in transportation, storage and packing, without requiring the involvement of highly qualified specialists and unique special equipment.
The geo-road for roads, realized by our company, is made from high-quality raw materials on the basis of the latest technological developments. Our products are thoroughly tested and certified.
>> Go to the section Geotextile garden