Geotextile Tekspol
The company "Geomaterials" is one of the largest manufacturers and suppliers of geotextile and geosynthetics in the South of Russia. The company sells geopolotno under the trademark Tekspol (TU 8397-001-68781351-2011) of different density. All products are tested and have certificates of conformity. Organize the supply of geotextiles in the regions of Russia and other countries.
Geotextiles, what is it?
Geotextile Texpol ™ is made of polyester or polypropylene fibers in accordance with TU 8397-001-68781351-2011.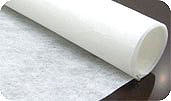 Fabric Tekspol ™ is made by needle-punishing method from polyester or polypropylene fibers.
Composition: 100% primary polyester or 100% primary polypropylene.
Roll width: 2.0 m, 2.2 m, 3.0 m, 4.3 m, 6.0 m.
The geogrid can be subjected to additional temperature processing, such geotextiles are termed thermally bonded (geotextile heat-treated), it has an additional index in the designation "T". For example: Geotextile Texpol ™ T400.
Depending on the surface density, the web is divided into types according to the table.
Type of fabric
Nominal value of surface density
Geotextile, g / m²

I
II
III
IV
V

100-200
201-300
301-400
401-500
501-600


Modern road, hydraulic engineering, civil engineering, land management, the organization of drainage systems and even the technology of storage, disposal of waste can not be imagined without the use of geotextiles - polypropylene or polyester monofilaments.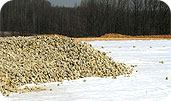 Monofilaments are obtained from granular polymer during extrusion. Polymer fibers are successively processed by a carded, and then needle-punched machine - a machine equipped with special serrated needles. This geolocation is often called needle-punched geotextile. Another technology for making the geomagnet is termed thermo-reinforced - it is based on fastening the fibers through temperature influences.
Regardless of the method of production, the output is a material with unique physicochemical properties. Ecologically clean geotextiles Tekspol is inert chemically, resistant to ultraviolet light, strong, elastic, elastic and possesses exceptional filtration abilities: the material passes only water. Even the smallest particles of the ground or other foreign bodies are screened out before the impenetrable barrier of the polymer web.
Advantages and properties of geotextiles
It should be noted that the geotextile Tekpol is not only produced without damage to the environment, but also its use is favorable for nature. So, geotechnical materials (in particular, the Geotextile Dornit material), prevent destructive processes of erosion and erosion of slopes. In addition, the use of polypropylene geopolitics significantly reduces the demand for natural Dornit textiles, which also positively affects the environment. Affordable cost, simple transportation - additional advantages of geotextile.
How geotextiles are used
Geotextile is a material that can have a different density. The most common density: from 90 to 600 g / m2. The higher the density, the heavier the web, and consequently - more reliably. Dense geotextiles are used in the construction of runways of airfields, major highways. Geo-textiles of medium density are used in road construction (road geotextiles), and also used in agriculture to protect the soil from erosion. A very light geotextile (with a density of 17-30) is used for drainage, sheltering plant seeds and is called its drainage geotextile. Slightly more dense materials can serve as a cover for greenhouses (42-60). Even heavy types of textiles are not very thick. The width of the roll, as well as the winding, can be different.
>> Certificate of conformity for geotextiles
>> Go to the geotextile application area