Geogrids for strengthening slopes and embankments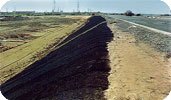 Geonet for the ground (uniaxial) is used in the construction of embankments on unstable grounds, for soils of high humidity as a reinforcing layer, which ensures the stability and stability of soil structures. This geosynthetic performs the function of a reinforcing layer when strengthening a weak base. It serves to provide increased stability of the embankment, while reducing the unevenness of the draft. With the use of the geogrid, the volume of construction materials for backfilling is reduced, which best reflects the overall cost of construction, in particular the cost of transportation costs.
Geogrid for strengthening slopes and embankments is used as a temporary or permanent element, which, in the first place, performs the function of protection.
Also, the geogrid for the soil plays the role of the following elements:
Armatures - increases the stability of the soil (reinforces);
Coatings - slows down or completely prevents the process of erosion;
Filter - prevents the removal of soil particles by groundwater.
As a rule, geosynthetic grids are used in conjunction with other types of strengthening, such as: biological, bearing, protective and insulating. The geogrid with cells up to 5 mm is laid directly on the escarpment. On top of the plant soil with grass seeds is applied, which provides a more dense grass cover and an optimum moisture regime. The thickness of the layer is not less than 10-15 cm. The mesh itself must be fixed on the roadside.
Laying Geogrids is carried out by transverse or longitudinal rolling of the rolls of material along the surface of the slope. The way the rolling is performed is determined taking into account the concrete construction conditions. For shallow slopes and embankments (laying 1: 2), it is technologically preferable for longitudinal rolling of coils. Transverse rolling is best used for strengthening in the upper and lower parts of the mound. In this case, optimal conditions for fastening and greater resistance to the resulting soil shifts are provided. Roll-out in this way is preferably for embankments and slopes of considerable height and is necessary to ensure stability. The transverse laying of the material starts from the edge. The webs of the required length are pre-cut.
Longitudinal rolling of geonet rolls is done manually by strips. Begin with the bottom of the embankment with an overlap of 20-30 cm. Roll out the canvas, every 10-15 m grid is leveled and pressed against the surface of the ground with the help of anchors or staples made of metal wire with a diameter of at least 3 mm. The width of the roll is fixed by anchors or staples in 2-3 places.