Geogrids for strengthening soil
Geogrids for strengthening the soil (reinforcing geogrid) are used for strengthening embankments, slopes, slopes, if necessary, separation of structural layers.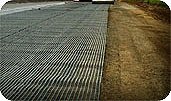 To perform the reinforcement of the soil, a uniaxial geogrid is used, the cells of which have an elongated shape and are oriented in the longitudinal direction. It is this design feature of the material that determines its high tensile strength. The use of polymeric material provides an opportunity to significantly improve the performance characteristics of a structure erected from the ground. In addition, due to the possibility of reducing consumable building materials, during construction, the volume of financial investments in the construction site is reduced.
With the help of a geogrids for the ground, it becomes possible to form stable slopes laid at a large angle. The main thing is that this eliminates the need for additional supporting structures.
The positive practice of using uniaxial geogrid for reinforcement has shown that the geometry of cells, edges and grid nodes of this type gives the construction material special operational properties. Due to this, high efficiency is provided for reinforcing the soil under any conditions. Today, builders are increasingly turning to this geosynthetics in the design of various roads and access roads, sites on unstable soils.
Geosynthetic uniaxial meshes have high chemical stability. Given this, they are used in a chemically aggressive environment. In addition, they withstand a wide temperature range, including swings, are resistant to ultraviolet rays, they have high tensile strength, low weight and long service life. Also, the benefits of mesh rolled geosynthetics include compactness in storage and transportation, safety and ease of installation, reduced volume of filler materials and a fairly competitive price.
For a relatively short period of its existence, the geo-grid has successfully proved itself in many branches of construction, here are just some of them:
Reinforcement of retaining soil walls;
Strengthening of unstable soils, requiring reinforcement in only one direction;
Construction of embankments on unstable bases;
Strengthening of noise shafts and dams;
Reinforcement of bridge supports;
Reinforcement of slopes, slopes;
Strengthening of the shoreline;
Prevention of soil erosion;
Restoration of slopes damaged by landslides;
Protection of roads in the mountains from landslides and rock falls.
With these and many tasks, the geo-grid does an excellent job, stipulating the lifetime of the erected structures in several decades.
>> Go to section Geogrid for strengthening slopes and embankments