Geogrids for construction of highways
Large traffic flows, which create significant loads on highways and roads, lead to rapid destruction of the road surface, the appearance of pits, cracks and potholes on it. The unsatisfactory condition of roads is most often caused by insufficient preparation of the road foundation. In this regard, in all developed countries in the struggle for a quality road using geosetku. In road construction, to strengthen the ballast layer and in the railroad track, a biaxial geonet is used, also called "road".
The use of such nets increases the strength of the asphalt-concrete coating during stretching, optimizes the perception and uniform redistribution of the main horizontal stresses arising during stretching.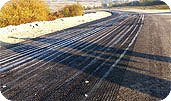 The use in the road construction of the geogrid allows to strengthen the crushed stone, which improves the operational characteristics and durability of roads. In addition, the use of a geogrid with geotextile makes it possible to reduce the bulk layer of crushed stone, in connection with the fact that the geobath prevents the rubble from spilling into the ground. Despite the reduction in the volume of consumable building materials, the quality of the constructed construction does not deteriorate. It is noteworthy that when the asphalt-concrete layer is reduced by 1/5, the maximum permissible load on the roadway is increased.
Geogrid road is used for the construction of new roads and reconstruction of old roads, when erecting various sites with the expected high level of loads, for the construction of railways, where it is necessary to increase the strength of ballast and sub-ballast layers. This geosynthetic demonstrates excellent results when laying a layer of new asphalt concrete on old concrete roads.
Geogrid - an excellent option for reinforcing layers of asphalt and joints. Its use makes it possible to increase the operating time of the roadway, giving it strength, reliability and resistance to wear. This construction technology allows to prevent the appearance of reflected cracks and slow down the process of their propagation. In this connection, the costs for maintenance and repair of the coating are reduced.
Being in the construction of pavement, the geogrid secures the filler, prevents it from spilling, displacing and reducing the stability of the pavement layers.
The geogrid is a relatively new building material, but has already proved itself as a reliable building material in road construction, which allows not only to improve the quality of roads, but also to reduce financial costs.