Geogrid for asphalt concrete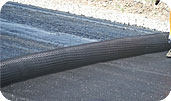 Laying and repair of asphalt pavement will be even more reliable and durable if using special geogrids for asphalt concrete paving. Currently, they are presented in two versions - based on fiberglass or polyester. Each material has its merits, the description of which should be discussed in more detail.
Geogrid for asphalt concrete from fiberglass
The popularity of this material is determined by a whole range of advantages: wear resistance, resistance to climatic and mechanical influences, preservation of parameters in bending, protection of the coating from deformation, and zero elongation at break, which allows to completely preserve the integrity of the asphalt coating and ensure its comprehensive protection from the appearance of cracks. Thanks to the use of geogrids from fiberglass it is possible:
Extend the life of the asphalt layer.
Eliminate its premature spoilage.
Ensure an optimal level of asphalt resistance to possible shear deformations.
Geogrid for asphalt concrete from polyester materials
Geogrids on the basis of polyester is a flat mesh material, the basis of which are bundles of polyester fibers fastened using a special sewing thread. After covering this geogrid with a layer of bitumen it is possible to ensure its optimal adhesion to the structure of the asphalt layer, thereby evenly distributing the tensile stress. The most common use of polyester geogrids is the repair of asphalt pavements when a new layer is laid over the old layer to increase the strength and durability of the asphalt surface.
In some cases, to increase the adhesion of the mesh with asphalt concrete, the material is made on a substrate of heat-strengthened polypropylene geotextile. Thanks to this measure, it is possible to improve the performance of the geogrid, namely, to ensure:
Reliable gluing of reinforcing layer.
Strengthening the adhesion of asphalt with concrete coatings.
Strengthening of joints of a structure from asphaltic concrete.
Economical consumption of the asphalt mixture, the possibility of reducing the thickness of the coating without compromising its performance.
The use of a geogrid for asphalt concrete has practically no contra-indications and limitations, which makes the material in demand in different areas of road works.