Geogrids SPSN-Texpol ™
Geogrids SPSN-Texpol ™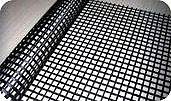 Geoset Tekspol ™ made of fiberglass are manufactured in accordance with TU 2296-003-68781351-2012. They are used as a reinforcing element for the construction of runways, road structures. Such glass mesh are in demand in the construction of new and repair, reconstruction of existing roads of any purpose, bridges and overpasses. Less often, but geosynthetic is also used in civil engineering, where it is used to reinforce the facades of buildings. In the land management with the help of a geogrid stabilize the ground foundation. The use of fiberglass nets for reinforcing asphalt concrete pavement makes it possible to increase in 3 times the between-repair times of erected roads. The cost of maintaining the site on which the geosynthetic is used is reduced to 40%.
Possessing unique physicomechanical characteristics, geogrids are able to withstand transverse and longitudinal loads, neutrally treat the influence of aggressive media, and also improve several times the performance characteristics of the received structures without increasing their cost. However, in order to achieve similar results, it is necessary to choose the correct geo-grid. When it is correctly chosen, the density, impregnation and cell sizes are taken into account.
Geogrids SPSS TekpolGosetki SNFS fiberglass are manufactured by interlacing yarns of aluminoborosilicate alkaline glass and rovings. A mandatory condition is impregnation of the obtained mesh with a special polymer composition, which is responsible for the stability of the structure of the material, its properties to withstand discontinuous loads and alkaline environment.
Glass Tekspol - non-toxic, fireproof and fire resistant material, the use of which is possible at temperatures up to 350 degrees. This is an excellent armo-element and protective-separating layer for ensuring the stability of structures.
Fiberglass geogrids can be used:
As a reinforcement in the construction of pavement to prevent the appearance of reflected cracks, ruts and potholes;
When constructing temporary roads and access roads;
To strengthen the roadside;
When erecting embankments on an unstable ground;
As an anti-erosion measure to protect slopes and adjacent ground;
In combination with other effective geosynthetics, including nonwoven geotextiles.