Geogrids polyester PS Tekspol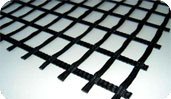 Geogrids polyester Texpol ™ PS - an innovative geosynthetic product, is manufactured in accordance with TU 2290-006-86781351-2015. Its production is based on the use of polyester fibers, which are impregnated with bituminous composition. Due to production technology, polymeric (polyester) geogrids are not subject to decay and deformation processes. With its help, a reliable, but plastic construction is created, capable of withstanding heavy loads.
The grid structure is represented by fixed cells with holes that are larger in size than the fractions of the filler material. The work of the geogrids consists in the cohesion of the grains of the backfill and the edges of the geosynthetic. The geocomposite layer thus formed is an effective reinforcing element that is resistant to dynamic loads.
The use of PS geogrids (polymer nets) in road construction strengthens the structure, prevents mixing of building materials of contacting layers. For even more efficient separation of structural layers, it is recommended to use a layer of geotextile. The joint work of the granular component and the geogrid prevents the transfer of filler grains inside the cell, and the geotextile excludes its spillage and mixing with the base.
Areas of application of polymeric geogrids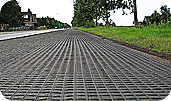 The main areas for the use of geogrids are road construction and land works. In road construction, the material is used for reinforcing public roads, trunk and district roads; when reinforcing the asphalt-concrete cover of the runways of airfields and helicopter landing sites. Geogrids PS Tekspol polymeric can be used both in the construction of a new cloth, and over the old one. Strengthening retaining walls, noise shafts, weak shorelines, slopes and slopes, reinforcement of hydraulic structures is also the prerogative of a polymeric geonet.
When reinforcing sites for large loads (warehouses, parking lots), the use of geosynthetics is also advisable. In addition to high performance characteristics, this geosynthetic product is characterized by the compactness of the packaging, which makes it possible to reduce transportation and storage, simplicity of installation and the absence of the need to use special equipment. This ensures the simplicity of acquiring and delivering the product in the right amount to any part of the country without large shipping costs. And coming out in rolls, the material creates optimal conditions for rolling and fastening.
In total, polymeric geogrids:
Reduce the time of construction work;
Reduce the volume of building materials;
Increase the operational characteristics of erected structures;
Prevent the occurrence of ruts and potholes.
Given the characteristics, we can safely talk about the profitability of the application of this geosynthetics. Having implemented it in the design, you can not think about repairing the structure for a long time. In addition, the economic value is enhanced by the affordable cost of the material.