Geogrids, biaxial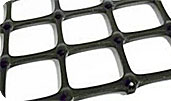 Geogrids are used in modern construction. By this term, a synthetic web type material with a mesh structure is designated. Elements are elastic stiffeners, stitched with a sewing thread.
Application of a biaxial geogrid
The main areas of construction that use geo-axes are biaxial, is railroad, road, industrial construction, as well as landscape works. But most often biaxially oriented geosynthetics are used in road construction. Therefore, often this product is called road geoset. Today, this is the optimal solution to the problems arising in the construction of wet, unstable, marshy soils. Thus, the geogrid allows solving construction issues in all regions of the country. Moreover, the range of temperature fluctuations at which the geosynthetic is possible to operate is about 100 degrees (-60 to +60 degrees). The introduction of the grid makes it possible to improve the load-bearing capacity of the ground, which in turn allows the construction of access roads and temporary roads in conditions in which construction without geosynthetics is not possible.
Characteristics of a biaxial geonet
In addition to technological design changes, the biaxial geogrid allows to reduce the volume of construction work, labor, construction time. Use of geosynthetics in the device of highways allows to strengthen the coating, to prevent mixing of layers. It is important that when constructing a structure without the use of cement, reinforcement can be made at a negative ambient temperature. Also, the material is not afraid of water, ultraviolet, bacteria and other microorganisms. To mechanical influences is stable.
The properties of a biaxial geocell due to its polymer composition and the principle of operation are determined, which consists in the adherence of a granular filler material and geogrid cells. Even more can be strengthened by laying under the net a layer of non-woven geotextile that will prevent the spillage of the filler. Such a composite layer not only increases the stability of the structure to dynamic loads, but also helps to reduce construction costs by reducing the thickness of the bulk layer.
Thus, by laying out the use of a geogrid in the project, a lot of issues are solved: reinforcement, reduction of time and labor, the ability to use inexpensive local material for filling, the construction of roads in difficult conditions. And the advantages of biaxial geocells are complemented by their convenience in transportation and installation.