Geogrid for sidewalks (paving)
Geogrids of various purposes are widely used in modern construction. By this term, a synthetic web type material with a mesh structure is designated. Composite elements are elastic stiffeners (consisting of high-strength thread bundles), fastened with a sewing thread. In the nodes, the fins can be fixed by gluing, fusing, weaving, or otherwise. The output is a grid with cells whose dimensions exceed the corresponding parameters of the edges forming the grid.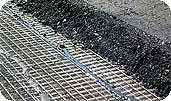 When constructing and arranging terraces, access areas, paths, a sidewalk net is used. This material is also recommended for use when the surface is paved with concrete tiles. It is laid in a layer of the ground in order that in time the path does not sink, served for many years. Polymer products are resistant to longitudinal and transverse ruptures. In many respects, therefore, the sphere of its application is areas with impressive dynamic and static loads.
What is the connection between the demand for a new generation of technological material? Geogrid for pavements (paving) allows you to reduce (by almost a third) the consumption of building materials, primarily crushed stone and sand. The pace of construction is increasing, labor intensity of work, on the contrary, is decreasing. When laying the geogrid, an insufficiently high quality tamping of the base is compensated. In addition, the presence of a reinforcing material prevents the indentation into the ground of crushed stone, resulting in the maximum degree of compaction. The load acting on the road surface is distributed evenly. The geogrid described above is suitable for laying in swampy and peat areas. Due to its presence, the sediment decreases, which is caused by the movement of soils. Separately it is worth pointing out that when using polymer roll material, the cost of maintenance of facilities is reduced.
The sidewalk geonet on sale is packed into rolls of 10 or 30 meters in length. Their height is 1, 1.33 and 2 meters. The mesh size is 33x33 and 35x45. The polymer material does not lose its original characteristics during operation over a wide temperature range. It has an increased corrosion resistance, is resistant to the action of environments of aggressive nature. Thanks to its reinforcing properties, the troweled path does not fail when heavy construction machinery passes through it.