Geogrid road
The company Geomaterials presents on the Russian market a geoset of its own production. We produce geotextile road from fiberglass (TU 2296-003-68781351-2012) and polyester yarns (TU 2290-006-68781351-2015) under the trademark Texpol (tm). We accept orders for wholesale and small wholesale deliveries of a road geo-net to regions of the Russian Federation and the country of the CIS. Competitive prices, high quality products, urgent deliveries.
Geogrids for roads
Geosciences of the brand Texpol ™ are flat polymeric webs of honeycomb structure used for reinforcing soils, strengthening layers of the roadway, including the main layer of asphalt concrete.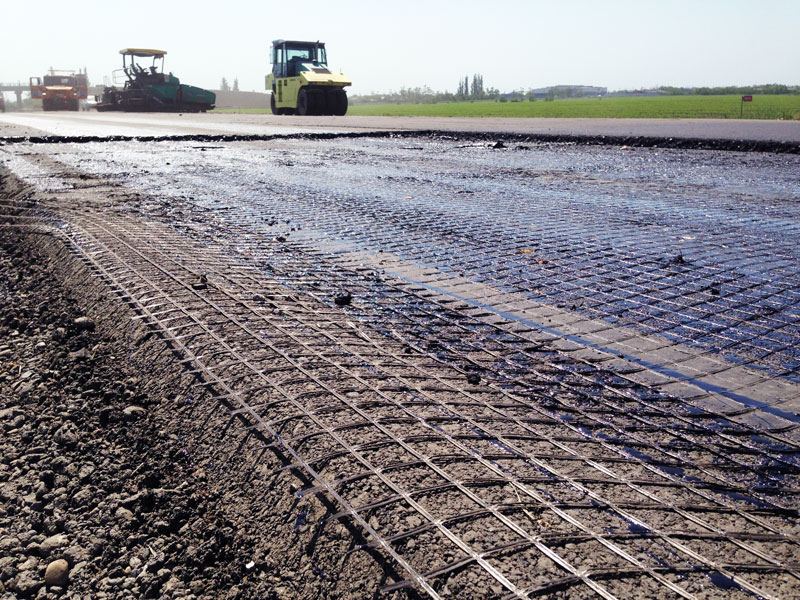 Geogrid production is carried out by different technologies. One of them is similar to the production of a synthetic lattice, when individual polymer fibers superimposed at right angles are fastened at the points of contact by laser or ultrasonic welding. They also apply chemical bonding of fibers. The grids produced by this technology are called connected. Such grids are commonly called polymeric geonets.
Another technology involves the production of granular raw materials by extrusion of an endless belt, in which, without allowing the material to solidify, produce through-holes in the required places. After this, the cooled web is stretched in one or both directions to form a mesh structure. Such road geosets are called extruded. During the manufacturing process, the mesh web is treated with special additives and impregnations. It is these additives that give the material specific chemical-physical characteristics. Also affects the properties of the finished product raw material, in which the role can be polyester, polyethylene, polyamide, polypropylene, polyester, fiberglass. Grids produced by this technology have the name - polyester PS geogrids or geotextiles from fiberglass.
As a rule, the size of the edge of an individual cell of the finished mesh is 5-50 mm. This is one of the fundamental characteristics of the finished product. In addition to the size of the cell, the values ​​of resistance to water, biological materials, aggressive media and ultraviolet are of great importance. Absolutely all geotechnical nets are not subject to rotting and successfully resist deformations.
Based on the properties of the product, the main directions of its use are works related to soil consolidation and road construction. In this regard, two main types of polymer nets are produced. Their characteristics are somewhat similar in some ways, but in some ways they are fundamentally different, i.e. products are completely different, not interchangeable products.
The most widely spread geogrid was a road made of fiberglass, without which today the construction of new roads, including airfields and landing stripes of helicopters, and their full repair is not complete. However, there are other areas of application of the material. For example, geo-grids reinforce the abrasive layer of grinding wheels.