Geogrid flat Armogrid SD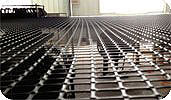 The geogrid is flat Armogrid SD is manufactured in accordance with TU 2291-005-68781351-2013 - a high quality polymer material whose high physical and mechanical characteristics are practically identical in two directions: longitudinal and transverse. They can differ by no more than 10-15%. The main element of a flat geogrid is its edges, which form cells by uniting in nodes. Such nodes are a kind of thickening on the material.
The use of a biaxial flat geogrid Armogrid SD
The main areas of construction that use geogrids are biaxial, is railroad, road, industrial construction, as well as landscape works. But most often biaxially oriented geosynthetics are used in road construction. Therefore, this product is often called a road geogrid. Today, this is the optimal solution to the problems arising in the construction of wet, unstable, marshy soils. Thus, the geogrid allows solving construction problems in all regions of the country. Moreover, the range of temperature fluctuations at which the geosynthetic is possible to operate is about 100 degrees (-60 to +60 degrees). The introduction of gratings makes it possible to improve the load-bearing capacity of the ground, which in turn allows the construction of access roads and temporary roads in conditions in which construction without geosynthetics is not possible.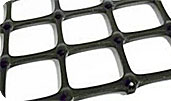 The material is widely in demand in road construction, reconstruction and repair of various types of communication (road, rail). geogrid Armogrid SD allows to increase the service life of the road and the load carrying them. In addition, the geogrid Armogrid SD is needed wherever mounds are built on weak grounds (marshes, clay soils, permafrost, wetland peat, etc.). A geogrid is also needed in the airport construction. With its help arrange runways, places of parking of planes, taxiways. The geogrid flat Armogrid SD can be used for construction of sites that carry high loads (various port facilities, parking of heavy vehicles, terminals, warehouse complexes, etc.). In some cases, the geogrid Armogrid SD acts as a reinforcing structure for concrete. In all spheres of use, the flat geogrid Armogrid SD reduces the costs of construction, subsequent operation and repair of erected structures. Thus, the introduction of the geomembrane Armogrid SD in the laying of highways reduces the consumption of granular materials by almost 40%.