Geogrid 75
Geogrid 75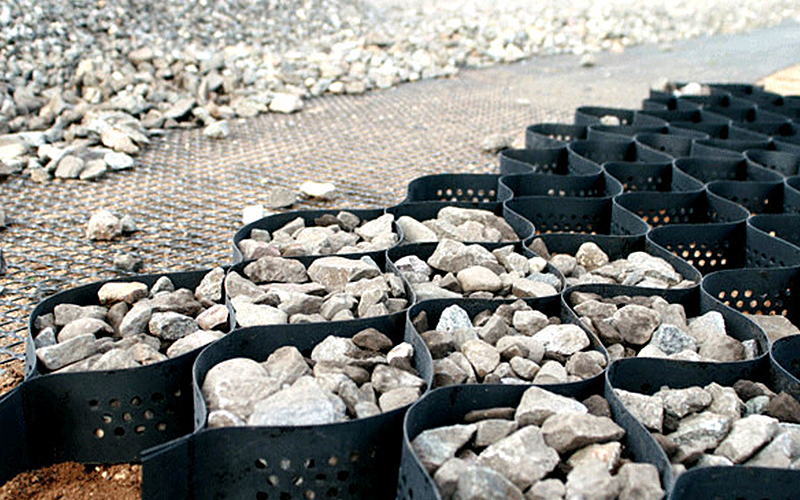 ОThe demountable geogrid is a convenient and practical building material used to strengthen the slopes, in construction work and landscape design. The design protects the ground and road surface from leaching and deformation.
From landscape design, to construction and improvement
The height of the ribs is one of the most important indicators when choosing a geogrid, it determines the purpose of the product. The design with a height of 75 mm ribs is used in different jobs:
landscape design and fixation of unstable soils;
strengthening of slopes and construction of sports grounds;
strengthening of drainage ditches, transitions;
covering for parking (provides protection of the lawn), etc.
Another area is the reinforcement of the road foundation, the height of the ribs of 75 mm allows the design to perfectly cope with the functions assigned to it. The product is made of polymers, outwardly representing a lattice with honeycomb structure, fastened by strong welded seams.
The cells are filled with different materials, starting from crushed stone, finishing with soil and sand. With this three-dimensional lightweight construction, it is possible to reinforce a variety of bases and slopes, increasing their stability and stability:
shore and soil on the construction site;
railway track;
slopes and industrial sites.
In the city, the product can be seen on the sports ground, in the park and park, in the parking lot, etc. In country houses with the help of a geogrid it is possible to carry out a whole complex of landscape works, creating a beautiful exterior and strengthening weak ground surfaces from leaching and erosion.
Main properties and advantages of bulk geogrids 75 mm
Polymer geogrids, manufactured in accordance with the technology, have a number of advantages that expand the range of their application and extend their service life. Let's select several parameters:
environmental safety (the material is non-toxic);
resistance to ultraviolet and temperature changes;
resistance to aggressive media;
Long life and compact dimensions when folded.
Polymer volumetric geogrids are a universal building material with which you can solve a wide range of tasks: increase the service life of various objects (from roads to residential buildings), increase the strength of structures and accelerate the process of construction work.
The main function of the design is to create a block that withstands high loads. Geogrids increase the bearing qualities of the ground and protect it from destruction. It is sufficient to use bulky structures to strengthen embankments or slopes in order to ensure their strength and stability.
Working with a geogrid is very simple, its laying does not require special knowledge and tools. When folded, the product takes up a minimum of space, forming a small module. When stacking the module is stretched, taking the form of a three-dimensional design, ready for operation.
Delivery of a geogrid 75 mm can be ordered on the site, you must choose the right products and the goods will be sent to the specified address in the shortest possible time.