Geogrid 50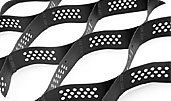 Geogrid is a three-dimensional honeycomb structure, the choice of which, without fail, must take into account the tasks assigned to
constructed object / structure. The main technical parameters of the geosynthetic are the size and height of the geogrid. These parameters directly depend on the location of the material, that is, on the slope and stability of the soil. From this also depends on the type of filler, which will fill the lattice cells.
It is very important to be guided by the regularity: the worse the soil and the larger the slope, the smaller the cell size should be. For example, a geogrid with a 160-by-160-mm cell is recommended for a slope with a slope angle of more than 35 degrees, with a 210-by-210-mm cell-with an inclination of 25-35 degrees and a 320-by-320-mm-to -25-degree slot.
The height of the rib plays no less important when choosing a geomaterial for strengthening the slopes and slopes:
Geogrid with a rib height of 50 mm is used when the angle of inclination is 0-10 degrees;
If the height of the rib is 100 mm, then the angle is 10-30 degrees;
150 mm - angle of 30-45 degrees;
200 mm - angle of 40-45 degrees.
The most common geogrid is geosynthetics with a rib height of 50 mm. Like the other types of geogrids, this is a three-dimensional modular design. The main areas of application are land management, road and railway construction, where the geosynthetic shows its high performance characteristics: reliability, durability, environmental friendliness, resistance to mechanical stress, etc.
When installing geogrid modules of 50 mm it is recommended to lay a non-woven geotextile layer under the geosynthetics, which will prevent spillage of the filler. The method of laying the geogrid 50 can be single-layered or multilayered.