Geogrid 150
Of all the four sizes of geogrids proposed today for the construction of slopes and slopes, it is recommended to use a geogrid with a rib height of 150 mm. Such a polymer lattice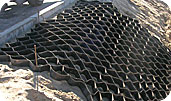 is a volumetric modular design, designed to reinforce slopes and slopes with a different angle of incidence. Most often, the properties of geosynthetics are required for reinforcement of the lower component of the road foundation, with the strengthening of slopes and slopes, and also for the protection of watercourses. When laying the material on a weak foundation, the advice of specialists is to lay a layer of geotextile that prevents the spillage of the filler material. Such a layer reduces the risk of uniform precipitation, which generally increases the stability of the structure.
When implementing a geolattice, different tasks are posed. At the same time, with all the tasks set, the geosynthetically copes well.
Application of a 150 mm geogrid in road construction
When used in the construction of a roadway, the geogrid 150 serves to prevent deformation of the soil during shear, and also eliminates the drawdown of the web, by increasing rigidity and stability. Geosynthetics in railway construction, where it helps to solve problems of deformation of embankments, is also in demand.
When strengthening slopes and slopes
When constructing artificial embankments, it is recommended to use an unperforated geosynthetic, that is, without special holes in the edges of the lattice. Used in land management, the geogrid 150 protects against erosion, guarantees the strength and high stability of the structure. Due to its honeycomb structure, the grill eliminates water stagnation. Nevertheless, to improve the drainage properties it is recommended to use a perforated geogrid of 150 mm.
At a lattice edge height of 150 mm, the slope angle of the slope or slope should be 30-45 degrees. The use of a modular geosynthetics to solve earth issues is the simplest and most economical way. In addition to the tasks of strengthening inclined ground surfaces, geosynthetic promotes the construction of aesthetically pleasing appearance. And vegetation grown in the lattice only increases the reliability and strength of the structure.
With shore protection
To strengthen the coastal zone of water bodies and streams, it is advisable to introduce a geogrid 150 mm with perforations. In this area the geosynthetic reinforces the shore base and protects the slopes from water and wind erosion.