Geogrid 100
Land management and construction actively use the geogrid. If the angle of slope of the slope is 10-30 degrees, then geogrid 100 is recommended for use - a bulk geosynthetic with a rib height of 100 mm. This is an excellent building material for reinforcing the soil. Most often such a grid is in demand for the construction of roads and railways, parking lots, while strengthening the shoreline of watercourses. With the aid of the geogrid 100, reinforced layers are formed that contribute to the integrity of the slopes and their resistance to erosion, which in turn increases the performance characteristics of the structure. With great success the geomaterial is used in conditions of wet, unstable soils, including on slopes from coarse clastic and easily washable soils, as well as from single-sized sands.
Features of the application of the geogrid 100 mm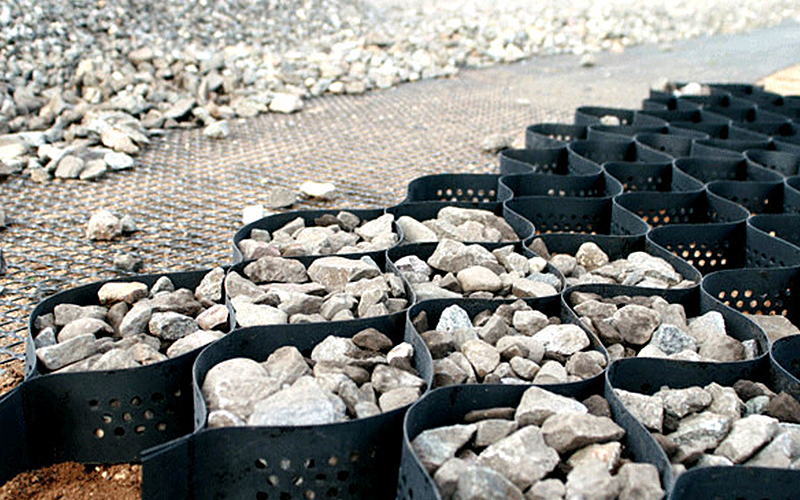 To achieve the greatest effect from the introduction of geosynthetics, it is recommended that you follow the instructions and use the geogrid 100 on slopes with an angle of 10-30 degrees. As a result of installing the geogrid modules and filling the cells, a reliable plastic cellular structure is formed, performing the function of a unique frame, which increases the shearing resistance of the shear. As a filler for cells used vegetative soil, gravel, gravel. Depending on the filler used, the bearing capacity and stiffness of the structure change. To enhance the high physical and technical characteristics under the geogrid, a layer of geotextile can be laid that prevents the spillage of the filler.
Advantages and expediency
The advantages include the lack of maintenance of the structure, due to the longevity of the material, the geogrid modules do not need to be updated, replaced and repaired. Geogrid 100 perfectly tolerates weather conditions, does not suffer from rain and groundwater, it does not fear temperature changes, so the design easily carries the freeze-thaw cycles. A germination of vegetation in the geogrids, including through perforation in the walls, contributes to an even greater strengthening and stabilization of the structure.
Convenience in storage and transportation, ease of installation, fast installation times make this geosynthetic simply indispensable in construction. The economic effect due to the possibility of using local soil for filling, which excludes the costs of the acquisition and delivery of construction materials, is also evident. In other words, the material for construction is not too expensive, and construction work is simple, which in general positively affects the economic efficiency of construction.