Geogrids for temporary roads (oil and gas industry)
Oil and gas construction today is one of the main areas of use of geosynthetic materials, including geogrids. At the moment, volumetric geogrids are successfully used in the construction of new facilities and reconstruction of existing ones. Specialists in this field note that oil and gas construction has become more efficient, practical and economical. With the use of multifunctional geosynthetics, new approaches to the solution of most of the current industry problems have emerged.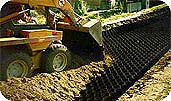 СThe use of a geosynthetic grid in oil and gas construction is extensive. A wide range of uses is due to the high material characteristics. High-tech construction of oil and gas facilities and further development of deposits becomes more cost-effective and ensures the reliability of the drainage system, the strength of the foundation for building, ensures the durability of the finished objects, the protection of the pipeline for liquid and gas streams from premature corrosion.
Protecting the embankment of pipelines is another function of bulk geosynthetics. The geogrid is successfully used as an additional layer in the lining of underground and underwater pipelines while ensuring the anticorrosive protection of oil and gas pipelines. Geosynthetic is a reliable protection, preventing the penetration of small particles of soil and excess moisture, causing damage to the pipes. At the same time, it provides stability in the operation of drainage systems. When used as a functional protective layer, the geosynthetic is laid around the pipeline quickly and simply, without delaying construction.
Special use in the oil and gas industry geogrids found during the construction of access temporary roads. Such construction is usually carried out on a weak ground when new fields are being built. Due to the ability of the geogrid to increase the bearing capacity of the bases, the geomaterial has been successfully used for many years in the development of oil and gas fields.
However, the volume geosynthetics differs not only in its multifunctionality, but also in the advantages of using, in comparison with traditional technologies, the arrangement of temporary roads and the strengthening of the embankment:
The geogrid is chemically inert, water-resistant and frost-resistant;
Stacking does not take much time;
The compact dimensions of the modules in the folded form provide the convenience of transportation and storage;
High performance and durability.