Geogrid application
Using a 3D geogrid
The geogrid is capable of withstanding high pressures, effectively strengthening soils, limiting shear deformations, withstanding the impact of chemicals in the soil, saline and fresh water, UV rays - all this explains the widest distribution of this geomaterial in the construction of roads - roads and railways , as well as runways. The geogrid is in demand in the following areas:
Application of geogrids in various areas of construction
Fortification of embankments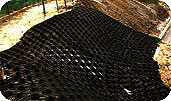 The geogrid for strengthening slopes, anti-erosion protection, increasing the overall stability of the base is applied directly to the base (through the geotextile layer), which needs strengthening, and can also be used as interlayers in order to increase the overall stability and reduce the unevenness of the sediments.
Railway construction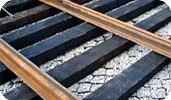 The geogrid for railways is used to strengthen the base, significantly reduces the mobility of railroad ballast, reliably stabilizes the soil, laid on weak grounds strengthens the embankment, increases the stability of slopes and slopes.
Strengthening the construction of surface drainage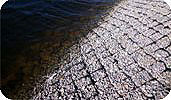 The geogrid successfully protects against the erosion of the surface of the drainage ditches, as well as the channels at the culverts. Traditionally, these activities are combined with strengthening the slope. Geogrids are used perforated relief with a minimum height of 15 cm. The geogrid is covered with a special filler.
Road construction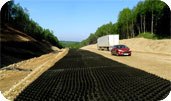 Geogrids for road construction, as well as reconstruction and repair are used to improve the quality of road coverage, reduce the formation of reflected cracks (primary and secondary), to reduce rutting. The material contributes to the reinforcement of a uniform load distribution, which makes it possible to increase the economic efficiency of construction or repair, as well as reduce the cost of road maintenance in the future.
Oil and gas industry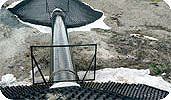 A geogrid is used for temporary roads, as a material for the development of construction sites, for the development of deposits, and for the strengthening of pipelines' defenses.
Geogrid for parking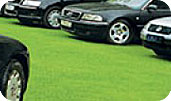 In our time, more and more cars are growing and there is also a growing shortage of parking spaces. Supermarkets, large shopping centers and even partial owners of houses are increasingly inclined to use eco-parks.
Strengthening the pond with a geogrid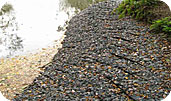 Water is permanently destroying the beach, this serious problem of homeowners whose plots are located near the pond. This problem is solved using a 3D geogrid. Cells can be filled with any decorative backfill, which will give individuality to your pond, in addition, the descent to the water will be more convenient.
Also, the application of the geogrid should include the erection of retaining walls, the strengthening of the coastal zone of water bodies, the channels of small streams, channels, landscape works (arrangement of sports grounds, lawns, parking for cars).