Geomembrane for waterproofing device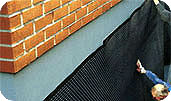 Polyethylene geomembrane for waterproofing foundations is now among the best materials to prevent the destruction of buildings under the influence of groundwater and corrosion.
Once groundwater, lying close to the surface, could cause a lot of trouble to builders. Therefore, the development of materials for waterproofing involved many manufacturers. Today, geomembranes made of polyethylene with special additives that improve the technical characteristics of the material, making it more resistant to temperature and chemical influences, are recognized as one of the best options. They are used in the construction of residential buildings, shopping centers, entertainment complexes, underground garages, swimming pools and other structures. Even with a high level of ground water, this waterproofing system will regularly serve for more than one year.
Geomembranes have a high degree of deformability, they are strong, they do not lose this property under temperature changes, they are frost-resistant. For their manufacture, low density polyethylene of high density or high pressure of low density can be used. In the first case, the quality of the geomembrane makes it possible to use it on well-leveled surfaces, the structure of the material is rigid. Therefore, it is used for the construction of all kinds of reservoirs, artificial reservoirs and storage tanks. The second type of insulation under direct sunlight becomes brittle, so it is most often used for the construction of underground structures and in permafrost conditions.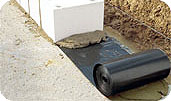 The issue concerning the protection of underground constructions of buildings and utilities from the impact of groundwater is now particularly relevant. This is due to the increase in the cost of building materials, including concrete and metal structures, environmental pollution, as well as toughening of regulatory requirements laid down in technical and legal documentation. So geomembranes appeared on the Russian market in time, increasingly pushing out traditional but obsolete materials. Until recently, in the construction of underground and hydraulic structures used for waterproofing special paint, plaster, metal sheets. However, their service life is much less than the operational time of the buildings themselves, so periodically it was necessary to seek funds for the repair and replacement of waterproofing, and a regular inspection of its condition was required. While the geomembrane for the device of waterproofing the foundation is laid "once and for all", without requiring additional funding for maintenance.
This modern material is resistant to chemicals and radiation, the speed of its installation is superior to any other, deformation and mechanical properties will give rise to the previously used materials. In addition, if previously required surface preparation, for which degreasing, cleaning and priming were carried out, then these actions are not required for the geomembrane. It is convenient to use for waterproofing structures having a complex configuration, and installation can be made even when the air temperature drops below 0, because the quality of insulation does not depend on external conditions.
Another important point is that the geomembrane is absolutely safe, which makes it possible to use it for isolation of drinking water reservoirs, swimming pools and ponds for fish breeding. Do not forget about such a property as the strength of punching and stretching, than can not boast of many other "traditional" materials, so that even with deformation of the soil, it will perfectly perform its tasks.
Since the size of the structures that require waterproofing, can vary significantly, it becomes necessary to connect individual pieces of geomembrane. For this, two methods of welding are used: contact and extrusion, and the quality of the seam is checked by special equipment.
Now this material is becoming more and more confident in the leading position in the market of waterproofing products.