Geomembrane for industrial pools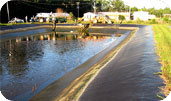 In many areas of industry, there is often a question of creating an artificial reservoir. It can be as an industrial pool of a large enough area, and small decorative reservoirs on personal plots. However, all this combines the basic material that is used to seal and waterproof the bottom of the pool and its walls. At present, such material is polyethylene, and the geomembrane produced on its basis.
Characteristics, properties and varieties of geomembranes
First you need to understand what the geomembrane is. This is a roll polymer sheet. On average, its thickness varies from 1 to 4 mm, the width of the sheet is more than 7 meters. The following materials are used for the production of geomembranes:
High-density polyethylene;
Low-density polyethylene;
Polypropylene;
Polyvinyl chloride.
A distinctive feature of all geomembranes are:
resistance to almost all chemicals with a pH of 0.5 to 14;
non-shrinking;
flexibility;
resistance to damage;
resistance to cracking;
ease and convenience of installation;
the possibility of elongation up to 850%;
tensile strength is more than 26 MPa.
Also, many specialists distinguish such properties as seismic resistance, resistance to temperature fluctuations and resistance to ultraviolet radiation. And, at last, the life of geomembranes is more than 80 years, if the installation is done at a professional level.
The use of membranes based on high density polyethylene
For different plants and for different requirements, either a high-density polyethylene membrane or a low-density membrane can be used. If you need a geomembrane for industrial pools, then one option may be the HDPE (or in foreign terminology - HDPE). Its main characteristic is an increased level of strength. This is what determines the areas of use of this material. So, in addition to swimming pools, it can be used:
as a waterproofing or anti-corrosion coating in construction;
for the creation of an accumulator of industrial wastes;
for the creation of potable water tanks.
The use of membranes based on low density polyethylene
Unlike high-density polyethylene, LDPE has a much higher elasticity. This causes the following use of this material:
construction of various types of structures in subsidence grounds;
reclamation of polygons with various kinds of waste (resistance to chemical attack allows to work both with industrial waste and with household waste);
waterproofing of tunnels, etc.
It is due to the high degree of elasticity that this type of geomembrane can be used in those conditions where it is impossible to work with HDPE. Including LDPE can also be used as a geomembrane for an industrial pool in the case if the base of the pool is not a concrete box, but a natural natural landscape.
Advantages of geomembrane and historical information
The first work in the field of development of this material is attributed to the 50th year of the last century. The pioneer in this business was the United States, where in 1953 for the first time in the construction of an irrigation pond polymeric materials with a thickness of 0.4 mm were used. In Russia, one of the first objects built using a geomembrane was an object at the Krasnoyarsk Aluminum Plant (dated to this work in 1996).
The main advantages of geomembranes include:
economy;
high adaptability to installation;
efficiency;
environmental friendliness.
>> Geomembrane for agriculture