Geomembrane application
Geomembrane application
Geomembranes are resistant to chemicals, including aggressive ones, impermeable to liquids, immune to temperature changes and UV rays, and also have high strength, successfully resist various damages and do not decompose for many years. All these qualities determine the wide use of geomembranes in the arrangement of ecological objects and many other areas of activity.
Geomembrane for arrangement of polygons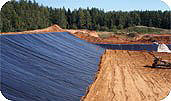 Geomembranes for landfills of solid domestic waste (MSW) and industrial wastes, it is possible to separate the soil layer from polluting substances (both liquid and solid), so there is no contamination of soil and groundwater.
Geomembrane for waste disposal

When waste is buried, it is important that the insulating material reliably protects the environment from hazardous and toxic substances (all hazard classes). Geomembrane for the arrangement of waste disposal sites retains its properties for many decades.
Geomembrane for industrial pools

Since the geomembrane is not permeable to liquids, it is advisable to use it also for the organization of industrial basins in which waste water, sludge, various waste products in liquid form accumulate.
Geomembrane for agriculture

It is used for arrangement of storage facilities for agricultural wastes, including wastes of cattle-breeding complex.
Geomembrane for artificial reservoirs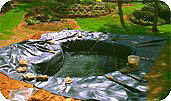 With the help of geomaterial artificial ponds are arranged (landscape ponds, fire ponds, irrigation canals, etc.). The geomembrane prevents water from flowing into the soil, so it can be used even for water reservoirs in salt marshes and sandy soils. Also, the geomembrane is used as an anti-corrosion and waterproofing layer, for example, when coating containers for storing drinking water.
The use of geomembranes in the context of the creation of artificial reservoirs
Geomembrane for waterproofing

Demanded as a waterproofing material to protect underground and buried objects, concrete structures (tunnels, foundations, autoparking, etc.), as well as for waterproofing the roof.
Geomembrane in the construction of highways

It is used as an anti-filtration protection for pavement foundation elements.
Geomembrane for highways