Geomembrane polymeric
Geomaterials presents a huge variety of geosynthetic products, including geomembrane. The enterprise is one of the largest producers and suppliers of geosynthetics in the South of Russia. We cooperate in the wholesale supply of geomembranes not only with the regions of the Russian Federation, but also with the CIS countries. We offer competitive prices. All goods are certified.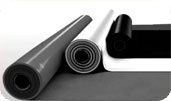 p>
Geomembrane is an insulating layer that completely excludes interpenetration of the separated media. The basis of this synthetic material are polymers (high or low density polyethylene, flexible polyolefin or flexible polypropylene). The bulk of its qualities the membrane receives due to additives, added in the manufacturing process. Such additives are soot, various antioxidants and stabilizers.
The use of additives makes the material unaffected by the aggressiveness of the environment, rotting processes and resistant to ultraviolet radiation. Possessing elasticity and elasticity, geomembranes, unfortunately, do not have high strength, and can not effectively resist external physical influences, for example, plant roots. To improve this indicator, the material is very often used in the composite with geotextiles. A geomembrane is produced that already has geotextiles and sealant applied to its surface.
Depending on the composition of the feedstock and the additives used, the polymeric geomembrane is classified into: geosynthetic clay-geosynthetic bitumen-geosynthetic. The structure of the final product is divided into geomembrane: smooth geomembrane geomembrane textured geomembrane profiled
The geomembrane is made of high density polyethylene (PVP geomembrane), low pressure polyethylene (HDPE geomembrane ) or high pressure polyethylene LDPE geomembrane), the latter is characterized by good strength characteristics. Geomembrane is used in the construction of landfills for storage of domestic and industrial waste, waterproofing and protection against corrosion of other materials (brick, metal, reinforced concrete, etc.). Geomembrane HDPE thickness 1.0; 1.5; 2,0mm; are the most in demand on the Russian market.
Geomembrane of low density polyethylene are highly elastic. It is used in construction works on unstable soils, as well as underground construction (waterproofing of tunnels, subway stations, underground communications, etc.). In addition, such membranes are indispensable for the conservation of the landfill of domestic or industrial waste and its transformation into a burial ground.
The undoubted advantages of the geomembrane include low cost, as well as convenient transportation. For these purposes, the geomembrane is packed into rolls, with a width of 2 to 12 m. The thickness of the geomembrane is: from half to four millimeters, depending on the tasks assigned.