Geomat three-dimensional
What is a geomat?
Geomat MT (GM3) is a bulk material produced in rolls, which has a variety of purposes and structure.
M - math
T - three-dimensional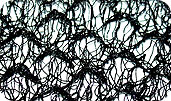 Geomat is one of the most effective materials in the erosion protection of slopes in terms of manufacturability and cost of construction. A wide range of combinations is possible with the sowing of grasses, crushed stone, bitumen in constructions under various conditions, including for flooded embankments.
Geo-mat anti-erosion - a water-permeable three-dimensional structure made of polymeric (or other) materials that are interconnected by mechanical, thermal, or other means.
Three-dimensional geomatics are used to fasten soil components, root systems of plants and herbs. the main application of the geomat is the strengthening of slopes and slopes. Also, geomats are used in construction and hydraulic engineering.
The geomat is chaotic, or regular three-dimensional fiber structures, constructions from geotextiles in the form of honeycombs (or other forms). Geomats are used to create a lasting vegetative cover on slopes and slopes, in order to prevent erosion of soil surfaces.
Similarly, geomatics, which are spatial honeycomb structures, are used in tandem with geotextiles to increase bearing capacity and strengthen bases.
Geomat anti-erosion - an effective solution to erosion problems of various origins. Geomat is a flexible and light material that effectively replaces heavy and environmentally problematic structures of stone, concrete and asphalt.
The geomat allows to provide reliable protection against erosion of slopes and slopes, shores, flooded surfaces, due to effective strengthening of the root system of plants.
The geomat, which has rigid rods and an open surface, can easily be filled with soil to its full depth and area. The geomat is extremely resistant to all kinds of environmental influences, including chemical and biological, as well as to negative effects of ultraviolet radiation. This is due to its long service life.
The geomat does not interfere with the root system of plants, due to which the slopes, lined with geomata, quickly overgrow, rather than being completely protected from erosion.
Laying the geomata is able to protect both horizontal surfaces and slopes, regardless of the type of subsoil. If you choose the right geomat and meet all the requirements for installation, then even steep slopes are effectively protected from erosion.
Geomat is used to firmly anchor roots of grasses and soil parts of plants. The geomat is especially effectively used in combination with various geosciences, geogrids and geotextiles - this significantly increases the strength of the fortified slopes of the slopes. Geomats are easy to install and do not require special qualification for this.
To buy a geomat, you can find out the price by contacting the sales department by tel. 8-800-700-01-71 (Free for Russia)
Stamps of geomats and geocomposites: