Geo-bridges composite with a substrate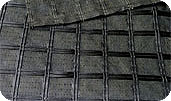 Composite geonets with a substrate are a geosynthetic roll material manufactured using a special technology. They have a network structure, which is formed by high-strength yarns, fastened together by a firming method and glued together with a non-woven synthetic material (geotextile). In their production, high modulus polyester or glass filaments with important chemical and physicomechanical characteristics are used. When rolls roll up stacking in asphalt concrete, the substrate eliminates the appearance of wrinkles and depressions
Properties of composite geogrids
Depending on the synthetic materials used in the geosciences, the degree of elongation at break is dependent, as well as creep. The most important requirements for geosciences with a geocomposite substrate are: resistance to moisture, acids and alkalis, biological factors, UV radiation and high mechanical strength.

Areas of use
Currently, there are various types of geogrids used in many areas of construction. As a rule, they are used to reinforce the upper layers of roadway roads, runways, bridges and other engineering structures. This allows you to reduce the pavement layer and increase the interval between repairs. The presence of the geopolitics enables the design to successfully withstand any dynamic loads destructively affecting the road surface. The most common type of deformation, which can be prevented with a geogrid, is a crack. In addition, the geogrid makes the coating more elastic and prevents tensile factors affecting the road surface during its operation. In all cases, the geogrid increases the resistance of the blade to any horizontal and most vertical loads. In the latter case, it is, in particular, the potholes and the road track formed on the unreinforced pavement.
Glass and basalt composite geogrids with a substrate
In road construction, geogrids from glass and basalt are in great demand. To increase the adhesion, they are often impregnated with special bituminous compounds. Therefore, it is recommended to lay this material on a fresh layer of asphalt. If the asphalt is spread over a concrete foundation, the impregnation of the mesh is latex. The stacked geolocation serves as a gas escape capillary. The substrate for the geogrid is made of thermo-bonded geotextile. It helps increase the contact area of ​​the mesh with the road surface and facilitates its installation by improving adhesion.
Geogrids from basalt and fiberglass are not subject to corrosion, burning, rotting, etc. They are characterized by high strength and resistance to high temperatures. For glass mesh, this figure is 400 ° C, and for basalt - 600 ° C. The temperature of binding bitumen during the installation is more than 180 ° C.
Strengthening the soil geo-networks with a substrate
Another area of ​​application of the composite geogrids is the strengthening of soil slopes, slopes and banks of water bodies. It should be recognized that the use of this material is much cheaper than all other ways of strengthening the soil, for example, through concrete slabs. Synthetic grating prevents displacement of soil, its erosion by atmospheric, thawed and groundwater, resists soil erosion, etc. In addition to the polyester geonet, in these cases a glass lattice is also used. Both materials have great strength, do not deform and do not decompose from the action of dampness and bacteria. Grids for reinforcing the soil can have a mesh size of 10 to 50 mm. Cells are not only square, but also rectangular. The tear force in this case varies between 20-400 kN / m.