Geocomposite MacDrain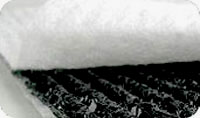 Geocomposite McDrain is a unique geo-product of Italian manufacture, in demand both in construction and in landscape architecture. The product has flawless draining properties, which makes it an indispensable functional component of many designs.
Brief description: The Italian geocomposites McDrain M and McDrain W are a polypropylene drainage substrate in combination with one (M) or two (W) non-woven geotextile layers of polyester. All components of the composite are fastened together at contact points. Given the type of material, the thickness of the polypropylene warp yarns varies, how their mass varies. One side of the McDrain composite can be laminated with a special film, which makes it waterproof.
Assignment of the McDrain geocomposite: both McDrain M and McDrain W are used as a flooring or wall drainage layer, the main functions of which are waterproofing or wastewater.
Features: the product is supplied rolled up into a roll, the length of which is 30 m, and the width is 2 m. Such a package provides a comfortable transportation of the material to the place of installation and easy installation, which does not require the use of special equipment. Both the drainage layer and the external geotextile filter of the geocomposite are resistant to ultraviolet radiation.
Areas of use of the geocomposite MacDrain
Construction sites for civil and industrial facilities. Road construction, including road and railways. Installation of oil and gas pipelines. In the mining industry - the device storage of waste process of enriching the mineral resources. Landscaping.