Plastic grid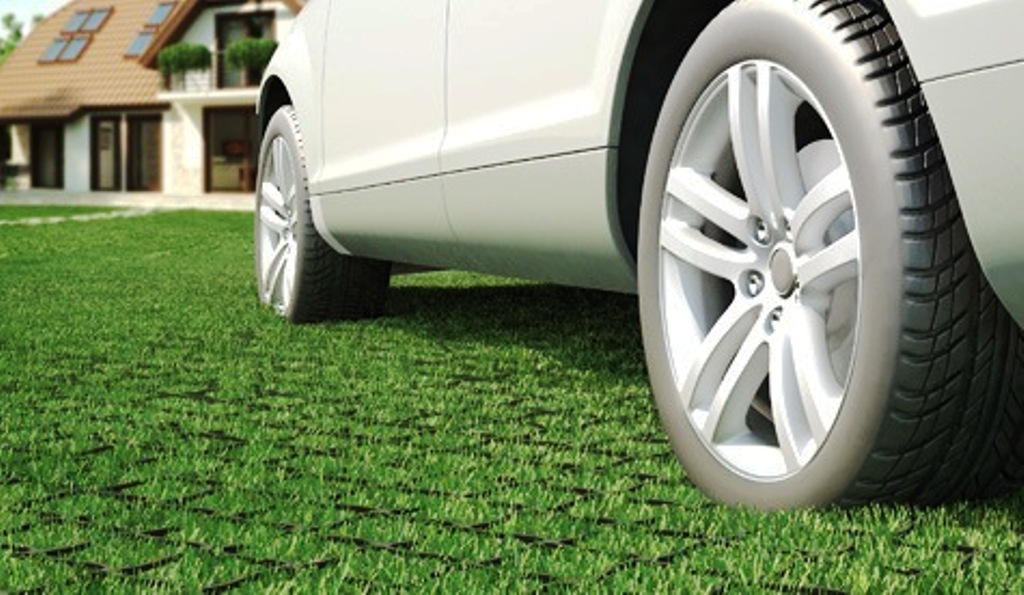 The lawn grate is one of the building materials that is used to strengthen the soil. This is a system of cells that allows you to eliminate the sprawl of soil, the root system of grass and green plantations. It is this type of lattice that is most in demand in landscape design. This design is used to ensure a level surface on the sites, parking lots, private plots, flowerbeds.
Application of lawn gratings
When you need to ensure a flat surface, many do not see any other way out, except for pouring cement or asphalt. This is far from always appropriate and necessary, but the usual lawn sooner or later becomes bumpy. To avoid such an outcome, we can put a lawn grate under the soil layer. It is much cheaper than any other methods of leveling and all the work can be done independently. The main application of the lawn grate is the parking of vehicles, and with the help of this system you can make an excellent playground, a football field, just a beautiful site. In many situations, evenly laid lawn wins against cement or similar coating for several reasons:
the lawn does not heat up;
plants provide additional oxygen, fresh air;
on the cover of the grass, precipitation does not accumulate - they are absorbed into the soil;
lawns are aesthetic.
A lawn grate can even be used to equip the parking lot. This will be a place for transport with a beautiful green surface - Ecoparkovka. But unlike a usual lawn, in such parking there will be no ruts and pits, and the grid will protect the root system, so no bald patches will form.
Types of lawn grills
There are several types of lawn grills that differ in purpose. Depending on the requirements and operation characteristics, gratings of different materials are needed. The most common are plastic lawn grills. They are used for arranging children's playgrounds and parking lots (Ecoparkovka). In fact, this is a modular design, which is connected by special fasteners. From the mesh elements it is possible to form lattices of practically any configurations.
There are also concrete lawn grills. But they are used for the design and construction of paths, because through the concrete slats the lawn does not germinate. This helps to create a pattern from plants on flower beds, country walkways, etc.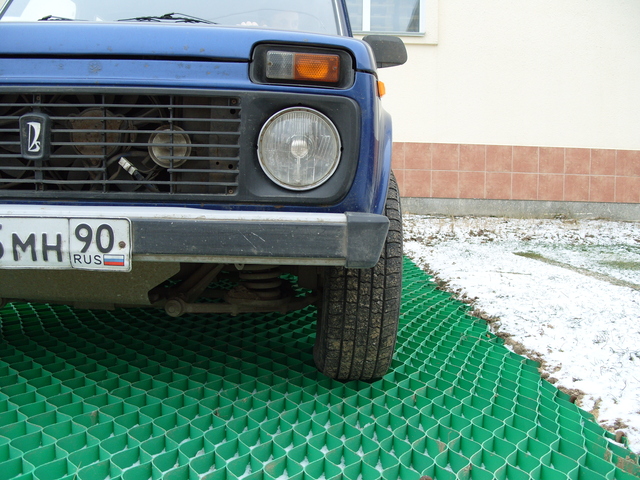 Lawn grilles are also made of polymer tapes. This option is the most budgetary. The module of such a lawn geogrid covers a large area, this greatly speeds up the installation process. Our company produces a lawn lattice made of polymeric tapes under the brand Armogrid lawn.
Installation and installation of a plastic lawn grate
Often, the grid is laid on the foundation of a mixture of gravel and sand, the height of the layer depends on the purpose of the site - the more the load is planned, the higher the substrate layer is recommended. For parking, this figure will be approximately 20 cm, and for a home football field or a playground there will be enough ten centimeters. If you just plan a flat lawn for beauty, the substrate can be do the minimum, do not necessarily use a mixture of sand and gravel, and lay one thing.

On top of the gravel-sand mix lay a lawn grate, which is covered with a layer of turf so as to fill the cells. They roll a lawn roll or sow seeds. In the case of planting seeds, you can additionally add soil and fertilizers. After that, it remains only to water the structure, then in a couple of weeks a beautiful lawn will rise. It is easy to care for - thanks to a perfectly flat surface mowing plants will be easy.
Thanks to the roots of lawn grass, the grate is very firmly anchored in its place. If you want to make it inclined, for example, for decorative purposes, you should do this by creating a mound of gravel-sand substrate. Depending on the angle of inclination, you may need a bottom stop, which can be removed after germination of the grass.