Boxed gabions with armopanel
Certificate for gabions | Price list for gabions | Stone for gabions
Gabions with reinforcing panel
Box-shaped gabions equipped with armopanel are mesh modules that are part of an environmentally friendly reinforcement system (the Terramesh system) to strengthen unstable soils.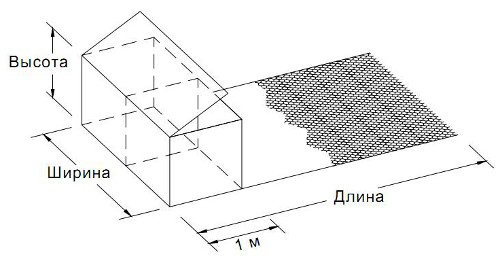 Each module of the Terramesh system is a steel structure made of a double torsion net, the cells of which are hexagonal. From the inside, the module is separated by diaphragms installed along the width of the product with an interval of 1 meter. The resulting sections are filled with stone fraction directly on the construction site.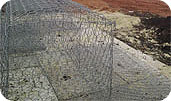 The grid, from which the box gabions Terrames with armopanel are made, is made of a reliable steel wire covered with a dense zinc layer. Due to the double torsion, the wire guarantees the strength of the structure as a whole, the stability of its geometric parameters and the uniform distribution of the load. For the edges of the panels, wire of a larger diameter is used, which makes it possible to strengthen the module. The module's resistance to corrosion, chemically aggressive environment and mechanical damage is ensured by applying a polyvinyl chloride coating to the mesh surface.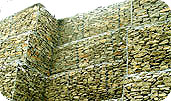 To ensure the stability of the soil massif, box gabions with armopanel are laid by horizontal layers with a certain reinforcement step, which is determined by the features of the project. The technical characteristics of the individual modules of the Terramesh system determine its subsequent structural integrity throughout the life of the system. The most important properties of box gabions are their reliability, flexibility, permeability and environmental friendliness to the surrounding ecosystem.
Thanks to biotechnology, after a certain period of time, the Terramesh system becomes part of the environment.