Chain steel chain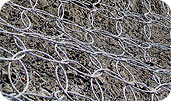 The chain net is a cellular structure made using a unique plaiting technology and consisting of steel rings, which in turn are also woven by using one of the technologies (continuous wire rope). At the moment the steel chain mail chain is an alternative economical and practical choice as opposed to morally obsolete, rather expensive and rapidly destroying reinforced concrete structures.
Mail chain properties:
high resistance to oxidation and subsequent destruction as a result of corrosion;
wide range of operating temperatures, including their significant gradations;
immunity to ultraviolet action;
increased tensile strength;
comparatively low weight;
long service life.

The material from which the above product is made is galvanized steel wire rope.
Technical characteristics of wire:
The grade of steel is from 55 to 85;
density of zinc coating - from 150 to 220 g / m2;
resistance to tearing (temporary) - from 150 to 180 kgf / mm;
diameter - from 2 to 5 mm.
Technical characteristics of the wire ring:
inner diameter - 350 or 420 mm;
the number of turns - 7, 12 or 19;
tensile force - 22 tons with a cross-sectional diameter of 12 mm, from 50 tons at a diameter of 19.5 mm.
Types of binding mail chain:
4-pin on the diagonal;
4-pin vertical;
6-pin connector.
When using any type of knitting from the above, a continuous mesh fabric is obtained, whose annular cells are not fixed firmly at the interlacing points. The steel chain mail chain is capable of withstanding sufficiently large dynamic loads and is an excellent choice as a flexible and reliable design, effectively absorbing the destructive energy of avalanches, landslides, mudflows, etc.
The main advantages of using chain mesh:
impeccable quality;
high reliability of finished structures;
Application in a terrain characterized by a complex topography;
economical expenditure of funds for the acquisition, installation and subsequent operation;
the lack of linking the work to the climate and season;
shortening the terms of design and delivery of the facility;
service life - from half a century or more;
affordable price.
The mail chain network is especially in demand when creating protection systems for highways and railroads located in mountainous areas and settlements from the effects of natural disasters such as snow avalanches, rock falls, mudflows, landslides, etc. In addition, this geo-product is used to protect coastal hydro objects and beaches from the invasion of representatives of marine fauna.