Gabions of mattress type
Certificate for gabions | Price list for gabions | Stone for gabions
Gabions of mattress type
Gabions of natress type – These are three-dimensional net structures (gabions), having a small thickness, but considerable in area. The mesh of such a product has a double torsion and cells in the form of a hexagon. Inside the Reno mattresses (along the length) there are diaphragms, stiffening each product and dividing the space into separate sections.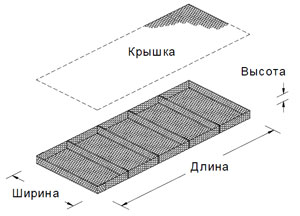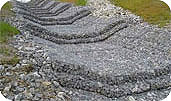 Being made of a double torsion net, these structures have a sufficiently high strength, durability and resistance to mechanical damage. Reliability of Reno mattresses is additionally ensured by the larger diameter of the wire from which the edges of the products are made. Steel wire, as a rule, is galvanized or has a special protective coating. The constructions oriented to operation in conditions of aggressive external environment are additionally covered with polyvinyl chloride, which ensures high resistance of the product to corrosion, chemical reagents and mechanical damages.
At the construction site, mattress-matted gabions are filled with stone fraction, transforming into elastic and sufficiently hygroscopic constructs such as reinforcing aprons and facings. Products are actively used for the implementation of projects of structures that allow monitoring of soil erosion and protect the foundations of objects from erosion. Important areas of application of the possibilities of Reno mattresses are the erection of retaining walls in landscape construction, strengthening of the coastal strip, fixing of cones of bridges,
After a certain period of time, this type of geotechnical product becomes an indivisible part of the surrounding landscape, acquiring additional strength due to the distribution of the root system of plants throughout its structure.
Application of Reno Mattresses:
in the base of retaining walls of gabions;
fixing the cones of bridges;
at landscape building;
for the protection of pipelines;
regulation of river beds;
strengthening of shores.