Boxed gabions
Certificate for gabions | Price list for gabions | Stone for gabions
Gabions of box type
Boxed gabions are volumetric mesh constructions. They are made of wire twisted wire mesh with hexagonal cells of wire diameter 2.7 mm (3.7 mm with polymer), 3.0 mm (4.0 mm with polymer). The filler is a natural stone of large fractions.
The construction scheme of the box gabion is shown in the figure.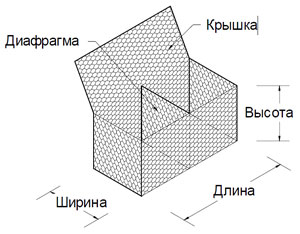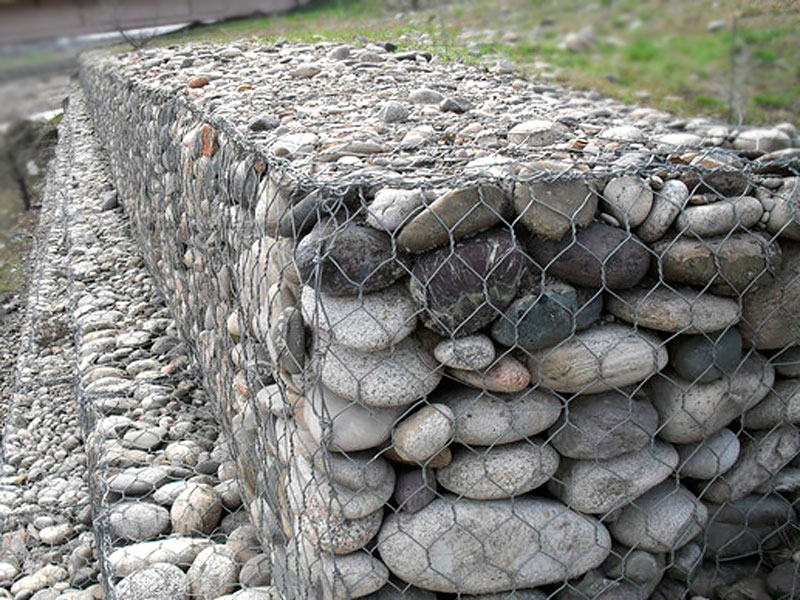 These structures are divided into sections by means of diaphragms installed inside the gabions through each meter along the length. At the edges, gabions are reinforced with a wire of a larger diameter than the wire of the net. Box gabions form flexible, permeable structures in the form of retaining walls.
Over time, the spaces between the stones are filled with dust, silt or mud, which contributes to the development of plants. Therefore, merging with the natural environment, gabions become part of the natural landscape. In addition, the accumulation of soil particles contributes to an increase in the strength properties of the structure, fulfilling the role of a binder.
Dimensions of box gabions
Length, ì
Width, ì
Height, ì

Size, ì3

1,5
1,5
2,0
2,0
3,0
3,0
4,0
4,0
1,0
1,0
1,0
1,0
1,0
1,0
1,0
1,0
0,5
1,0
0,5
1,0
0,5
1,0
0,5
1,0
0,75
1,5
1,0
2,0
1,5
3,0
2,0
4,0
Our company produces box gabions in accordance with GOST R 52132-2003.

Certificate of conformity for gibion products.