The use of gabions and gabion structures
Certificate for gabions | Price list for gabions | Stone for gabions
Application of gabions
Economical and ecological designs - gabions, which are hollow boxes woven from polymeric or metal fibers, due to their unique qualities, are widely in demand for effective bank strengthening of various water bodies, and also in those cases where reliable reinforcement of weak ground is necessary
Gabions for bank protection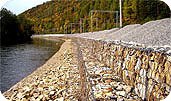 The structures of gabions, in comparison with the old shore-defense technologies, are more functional and convenient to operate. Gabions are simple in transportation and installation, have high aesthetic characteristics, organically fit into the surrounding natural landscape. Increase the efficiency of stacking gabions easily by planting plants on them. In the construction of retaining structures using gabions, local soil of any quality can be used.
Gabion for landscape design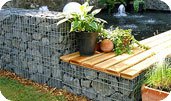 They are used for the construction of protective retaining structures (walls) located at the base of the coastal slope, which makes it possible to solve the problem of erosion of the shores and allows to protect the terrain adjacent to the reservoir from erosion. At the same time, the natural relief, vegetation, weak soils are protected from weathering and erosion, the influence of destructive natural factors on the shoreline is reduced.
Gabions for culverts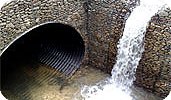 Gabion structures for culverts are resistant to erosion by precipitation and water, they act as effective drainage. Before the work, the terrain is covered with geotextiles, and then the gabions are laid, which are connected with each other by wire, and then they are covered with a stone.
Gabions for strengthening slopes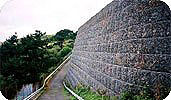 Gabion structures to strengthen the slopes and slopes reliably reinforce weak soils, while the actions to strengthen them are cheaper than using similar structures from reinforced concrete.
Gabions for the construction of retaining walls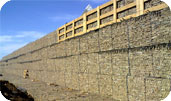 Especially demanded are gabions in the mountainous terrain for protection from avalanches, rockfalls, mudflows. Due to the unique drainage qualities, the erosion of the gabion structure does not occur, which means that the structure retains its strength. Also, gabions are used to protect water pipelines running under water, and bridge supports.