Instrument for gabions
Certificate for gabions | Price list for gabions | Stone for gabions
Tool for assembling gabions
At first glance, it is very easy to mount gabion structures. It is enough, according to the instruction, to assemble a box from a specially cut net and fill the structure with filler. But such simplicity is often deceptive. Only gabions collected by qualified specialists guarantee that they will stand for decades and fulfill the tasks assigned to them.
Every specialist who professionally deals with the installation of gabions will say that a qualitative assembly of the gabion is impossible without a special tool and attachments. The minimum set - pliers (preferably those that have long sponges), nippers, mounting, crab - a special tool designed to attract and temporarily fix the gabion's cover and its diaphragms during the mounting period. But this is a minimum, and in the arsenal of specialists there is a much larger set of a special tool that allows you to perform the entire amount of work in a very short time.
For fast and sound compression of the staples, a special stapler is used in the installation of gabion structures. There are two types of staplers: manual (common name for plier) and pneumatic.

The manual stapler "works" solely on the strength of the hands of the worker. Usually it is used when it is necessary to perform a small amount of work, and to perform significant work on the installation of gabion structures, as a rule, use different models of a special pneumatic tool. For their work, a small air compressor is usually needed. Pneumatic stapler allows you to quickly perform significant amounts of work on the creation of gabion systems for various purposes.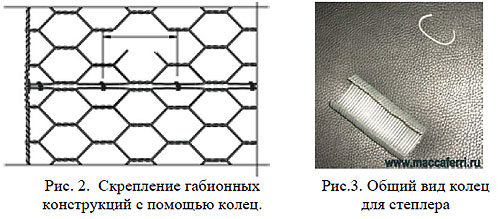 Special staples are inserted into the stapler, made of a durable material that does not break during bending, which retains its strength after changing the shape. Like the wire from which the gabion constructions are made, the clamps are covered with a strong layer of zinc, which is preserved after various deformations.

When installing gabions it is necessary not only to fix the elements of the structure and to connect the wires of its part, but also to cut the wire, from time to time to cut the fasteners. For this purpose it is much more convenient to use a bolt cutter - a hand tool designed for cutting wire. It transfers the force of the hands to the cutting sponges much more.