Gabions
Geomaterials produces gabion constructions: box gabions, Reno Mattresses, Terramesh Systems, double torsion net. We carry out complex deliveries of geosynthetic materials to construction sites: non-woven geotextiles, road geoset, dornite, bulk geogrid, profiled geomembrane. Urgent supplies to the regions of Russia!
Gabion constructions
Gabion - in translation from Italian (gabbione) means a box, or a frame made of metal mesh filled with stone or rubble.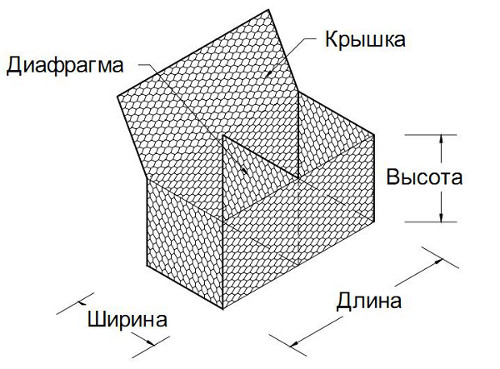 Ltd. "Geomaterials produces gabion net products in accordance with GOST R 52132-2003 (Products made of wire twisted wire with hexagonal cells for gabion constructions.) The gabion production plant is located in Russia, Rostov region, Novocherkassk. Manufacture of gabions is carried out by highly skilled workers with many years of experience.
Gabions - three-dimensional factory designs, made of metal twisted or woven mesh, separated by special diaphragms on the section. Literally translated from French means "big cage". The main purpose of gabions is engineering and forti
Gabion structures in their form are divided into: fictitious structures, filled with rubble, pebbles or stone.
Widely used in modern form throughout the century, however, similar designs are found by archaeologists exploring Egypt and the civilizations of Central and South America. Interestingly, over time, the efficiency of the structures does not decrease, but increases, due to additional soil deposits, rooting and plant growth. Today gabion constructions have found wide application in landscape and architectural design, strengthening of coasts and slopes, erection of fences, as small architectural forms. They are especially popular in the Netherlands, Denmark, Sweden, where they are used throughout the municipal design of urban parks.
Boxed gabions - K;

Reno mattresses (strengthening ravines, river beds, coastlines) - M;

Terramesh systems (box gabions with reinforcing panel) - spacecraft;

The Green Terramesh system;

Gabions of cylindrical form - C;

The main advantages of gabions are:
Flexibility of gabions
Designs are able to withstand external loads without breaking. Gabion structures absorb possible sediments of the soil without destroying the structure itself. In conditions of unstable soils, as well as in areas of their erosion, this quality is particularly important.
Strength of gabions.
The double torsion grid, from which gabions are made, has a variable tensile load from 3500 to 5000 kg. at the turn. meter. Due to this, gabion constructions can withstand any type of loads.
Permeability.
High permeability of gabion structures excludes the occurrence of hydrostatic loads. Drainage and stability make them ideal for protecting slopes from erosion.
The durability of gabions.
The efficiency of gabion structures does not decrease, but increases with the years, since with time the soil deposits are compacted in the cavities of gabions and the growth of vegetation on their surface begins. In this way, gabions are transformed into friendly building blocks.
Economical.
Gabion structures are more economical than rigid or semi-rigid structures, since they have the following advantages: low operating costs; minimum volume of work for the preparation of the base of the structure; Simplicity of structures does not require skilled labor for installation; there is no need for the cost of installing drainage systems, since gabion structures are permeable.
Ecology of gabions.
Due to the fact that the gabion structures do not interfere with the growth of vegetation and merge with the environment, they are natural building blocks for decorating the landscape.
>> Go to the section box gabions