Biomat "Texpol Bio"
Instruction for laying a biomass | Application of biomass | Technical characteristics of biomass |
Price list for biomass
Biomat Texpol BIO
Biomat (or biotextile) is a multi-layer filament or non-woven material. As a basis for the bio-fiber, fibers and other raw materials of organic origin are used, which under certain conditions decompose without damaging the surrounding ecosystem.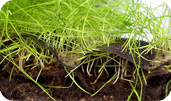 The main task for the solution of which the biomat "Texpol Bio" is used is to protect the soil surface from the adverse effects of erosion. The area of ​​application of unique opportunities for biotextiles is landscaping and protection of territories lacking natural vegetation, quarries, road slopes, area embankments, gas and oil pipeline routes, and similar facilities located in the severe climate of northern regions.
Biopolitno provides soil strengthening and restoration of vegetation on its surface. This is a much more effective alternative to the usual technology of soil compaction, which is characterized by a high labor intensity and a long process of reconstructing the soil-vegetation layer. With the exact observance of all technological stages of laying biotextiles, the healed area is covered with vegetation for several months. Along with the protective functions, the biomass fulfills other tasks, among which soil fertilization due to the decomposition of organic constituents and moisture retention, due to the presence in the product of special sorbents of natural or synthetic origin.
Application of bio-ply
The use of biomass guarantees the restoration of the soil and vegetation layer in one season, avoiding the burdensome laying of fertile soil with the subsequent annual sowing of grasses. This greatly simplifies the process of technical reclamation of land, reducing the cost of work and reducing the cost of operation.
Price of biomat
>> Go to the biomat application section